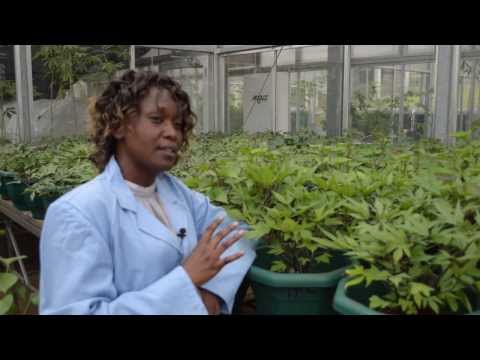 Lydia Wamalwa is a molecular plant scientist with the International Potato Center (CIP) whose research in Kenya is hosted at the BecA-ILRI Hub in Nairobi. Lydia and her colleagues at CIP are working to develop sweetpotatoes that will fight off the sweetpotato weevil without using pesticides.
The sweetpotato is an important food crop in developing countries which account for 95% of the over 105 million metric tons produced each year globally. Its ability to grow in marginal conditions and with little labor and inputs, makes the sweetpotato a source of resilience in food and nutritional security to smallholder farmers. Not only is sweetpotato nutritious to humans (contains vitamin A, B, C and E) but it also provides inexpensive, high-protein fodder for animals.
Unfortunately production of this highly adaptable food crop faces a major threat from the sweetpotato weevil, which often causes losses of 60% – 100% during periods of drought. In this two and a half minute video, Lydia Wamalwa talks about the ongoing research to develop sweet potato resistance to sweetpotato weevil which is supported by the World Bank.
The International Potato Center is among the hosted members of the CGIAR consortium which contribute valued crop biosciences capacity to the BecA-ILRI Hub. Other members of the CGIAR consortium whose research is hosted at the BecA-ILRI Hub include International Institute of Tropical Agriculture (IITA) and the International Rice Research Institute (IRRI).
For more information on sweetpotato research, visit the CIP website page – Sweetpotato in sub-Saharan Africa.
______________________________________________________________________________________
About the CGIAR
CGIAR is a global agriculture research partnership for a food-secure future. Its science is carried out by the 15 research centres that are members of the CGIAR Consortium in collaboration with hundreds of partner organizations.