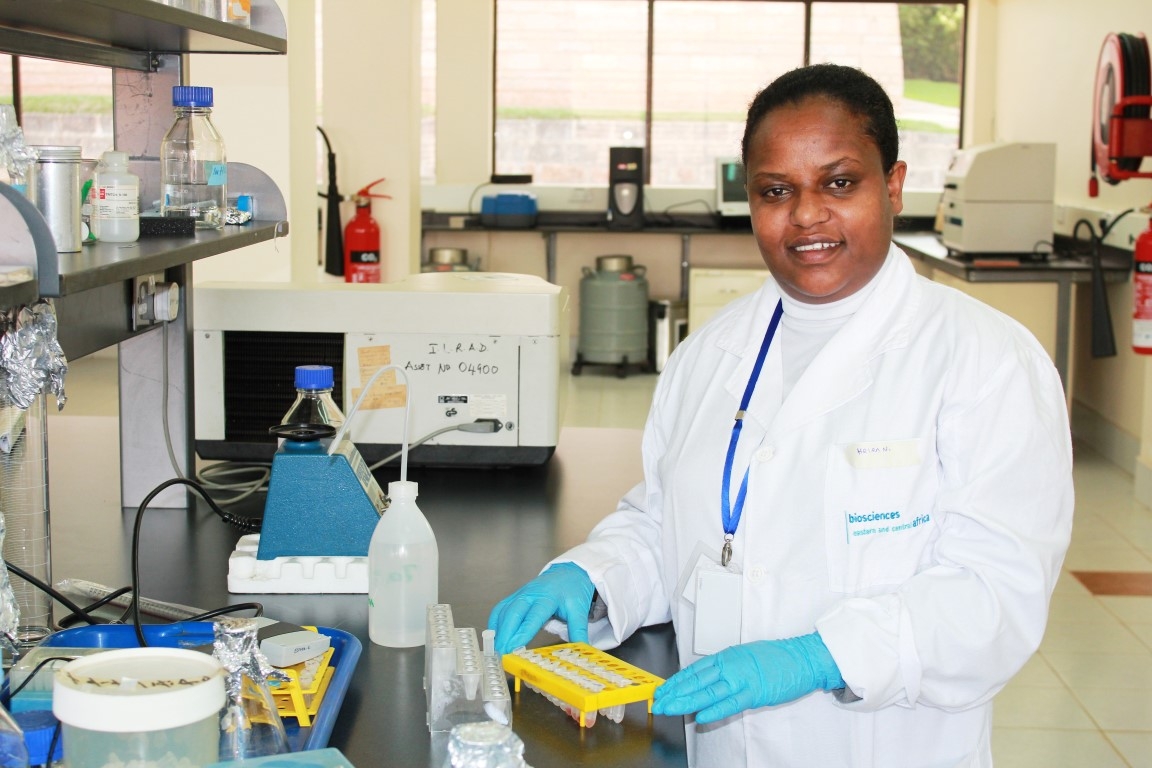 Helen Nigussie is a lecturer in Animal Breeding and Genetics at the Ambo University in Ethiopia, a PhD student at Haramaya University, Ethiopia and a recipient of the Africa Biosciences Challenge Fund (ABCF) fellowship.
Helen was awarded a fellowship for a period of six and a half months from 5 June – 15 December 2013. Her project was a study of the genetic diversity and matrilineal genetic origin of local sheep populations of eastern Ethiopia. The project also included linking molecular data to the phenotypic data previously collected on local sheep in the country.
Sheep are the second most important livestock in Ethiopia after cattle, with a population of about 24.2 million heads. These livestock play a major role in the food security and social well-being of rural populations living under conditions of extreme poverty in Ethiopia. Out of the total sheep population in Ethiopia, 99.7% are indigenous breeds with a diversity of nine local breeds found across different agro-ecological zones ranging from mountainous highlands to arid pastoral lowland areas.
Unfortunately, the productivity of indigenous sheep in Ethiopia is currently very low.  Improved productivity of local sheep would contribute to the alleviation of food insecurity and poverty of farmers and pastoralists.
The focus of this study was to understand the genetic diversity, population structure and maternal genetic origin of indigenous sheep.  Eastern Ethiopian sheep have an outstanding adaptation for feed scarcity, high temperature and disease resistance. Findings from the study will help to set up a sustainable genetic sheep improvement and conservation program.
About her achievements, Helen says:
"While at the BecA-ILRI Hub, I acquired experience in molecular biology which I applied to my research. I also gained confidence in conducting laboratory work independently. I was fortunate to have the opportunity to participate in different workshops including the annual Advanced Bioinformatics and Scientific Research Paper Writing workshops which gave me skills that will greatly advance my career. I have shared my experience with my colleagues and will contribute more to the research and teaching activities at my university.
My experience in molecular techniques, data analysis and all other skills I am now using in writing my dissertation are thanks to my fellowship at the BecA-ILRI Hub. The few months spent with the most talented scientists in my field and with a very dedicated team of people have impacted me forever!"
______________________________________________________________________________________