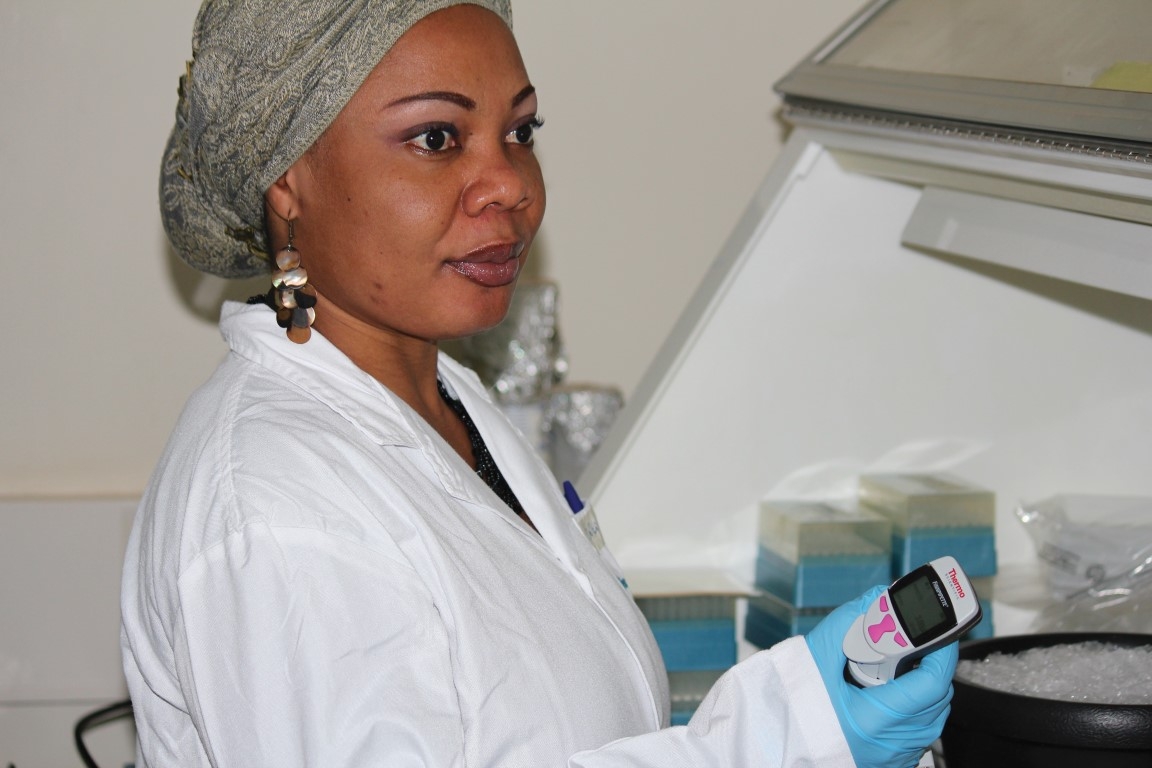 Cécile Annie Ewane is a senior lecturer and associate chief of the Laboratory of Phytoprotection and Valorization of Plant Resources, Biotechnology Center (Nkolbisson) at the University of Yaoundé 1, Cameroon. She is also a recipient of the Africa Biosciences Challenge Fund (ABCF) fellowship.
Cécile was awarded a fellowship for a period of four and a half months from 3 August – 20 December 2012, to carry out the molecular characterization of banana and plantain genotypes from the African Centre for Research on Banana and Plantain (CARBAP), and to link molecular data to phenotypic data previously generated in CARBAP, Cameroon.
Plantains are a major staple food in West and Central Africa and play a vital role in contributing to food security for more than 250 million people in this region as indicated by the very high per capita consumption in Gabon and Cameroon (159 and 126 kg/person/year respectively). Plantain production for food or for sale on local markets is managed by smallholder farmers in small sized family farm holdings and in home gardens which are characterised by low productivity. As a result, demand largely outstrips supply provoking very high prices for this commodity on rural, urban and trans-border markets. There is a great need to improve the performance of this crop from about 10 tons/ha/year to more than 30 tons/ha/year.
CARBAP in Cameroon hosts and conserves the world's second largest collection of Musa world reference materials. CARBAP's breeding programs have led to the development of a number of improved plantain varieties with consistently superior performance regarding yield and resistance to diseases and pests. However CARBAP does not have information on the genetic profiles of these accessions. Proper profiling of these collections will help streamline the materials and maintain only essential accessions.


About her achievements Cécile says:
My ABCF experience helped me acquire knowledge in molecular biology, skills in people management and improve my English language skills. I acquired tools that are useful in teaching, training and introducing young researchers into the research field. I am also trying to improve the level of research at the Biotechnology Center in Nkolbisson, Yaoundé using the skills I acquired and through the network of researchers I formed during my fellowship at the BecA-ILRI Hub. My work at the BecA-ILRI Hub was the forerunner of a bigger project at CARBAP which will lead to the characterization of the whole CARBAP collection of plantain and bananas. I am currently writing a project proposal that will leverage further funding through the ABCF and of course, look forward to many publications of the findings from my work.
The fellowship at BecA-ILRI Hub was a wonderful experience for me. I gained confidence in conducting research and presenting my work. I have had the opportunity to work in similar facilities in Europe before, but thanks to the BecA-ILRI Hub, its partners and donors there is no need to travel so far any more!
___________________________________________________________________________________________________