Details

Written on Friday, 28 May 2010 02:48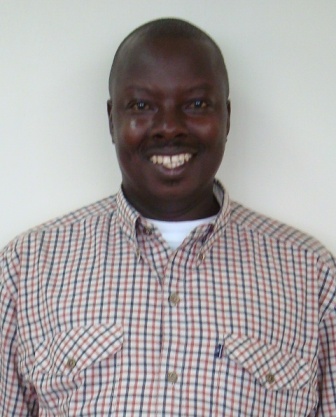 Laban Turyagyenda is a PhD student in the Department of Crop Science, Faculty of Agriculture, Makerere University in Uganda.  He holds a Master of Science degree in crop science and a Bachelor's degree in Science from the same University. After his MSc, he briefly worked with International Institute of Tropical Agriculture (IITA) as research assistant to a banana breeder and then with Bioversity International as Research Associate (Banana Xanthomonas Wilt Specialist).
Laban is currently working with National Agriculture Research Organization (NARO) Uganda as Research Officer where his duties include planning, supervision and implementation of agronomic research activities of the organization at Mbarara agro-ecological Zone in the western region of Uganda.
Laban's PhD work focuses on genetic studies of drought tolerance in cassava (Manihot esculenta). His study aims at phenotypically  characterizing Ugandan cassava germplasm in respect to drought tolerance; assessing the level of genetic diversity among the Ugandan cassava germplasm, evaluating expression of drought candidate genes in cassava during severe water stress and determination of Single Nucleotide Polymorphisms (SNP) variation in drought tolerance candidate genes. Laban's work will help in understanding of mechanisms of drought tolerance in cassava through identification of candidate genes and their expression under water stress. This information is very important for molecular breeders especially those interested in developing drought tolerant crop varieties through molecular breeding or Biotechnology. Information on genetic diversity will be helpful for conventional breeders. 
While at BecA-ILRI Hub, Laban will be working under the stewardship of Dr. Morag Ferguson and Dr. Jagger Harvey. He is expected to look at gene expression of candidate genes using Q-PCR and genetic diversity assessment techniques, such as SSR genotyping. The work will give Laban experience in Simple Sequence Repeat (SSR) genotyping, sequencing, SNP identification, diversity assessment and quantitative polymerase chain reaction (Q-PCR). It is expected that Laban's work will significantly contribute to the fight against drought effects on crop production, especially with the increasing climate change issues.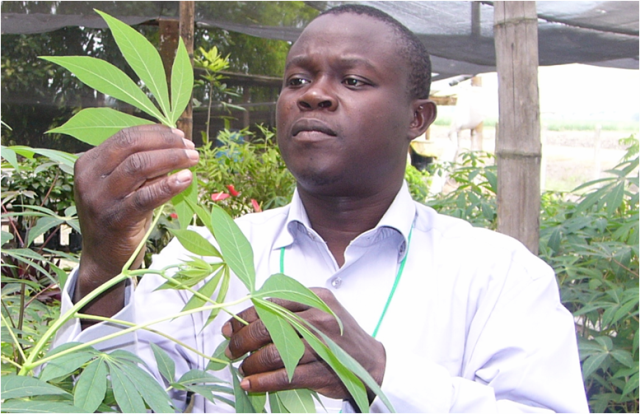 Anthony Pariyo is a plant breeder/geneticist with the National Cassava Improvement Program at the National Agricultural Research Organization in Uganda. His work involves a lot of collaboration with many international agricultural research organizations and laboratories. Previously, Anthony worked with the Ministry of Agriculture as an Agricultural officer where he would tender agricultural advice and plans to farmers and stakeholders.
Anthony is currently pursuing his PhD on plant breeding and biotechnology at Makerere University in Uganda and his research project is centered on making a contribution to understanding aspects of genetics of resistance to Cassava Brown Streak Disease (CBSD) which is caused by the cassava brown streak virus. His work at the BecA-ILRI Hub will focus on molecular characterization of selected genotypes of cassava with differential reaction to CBSD.
Anthony hopes that his research will make a contribution towards improving the efficiency of genetic improvement of cassava. At the BecA-ILRI Hub, he is under the supervision of Dr. Jagger Harvey.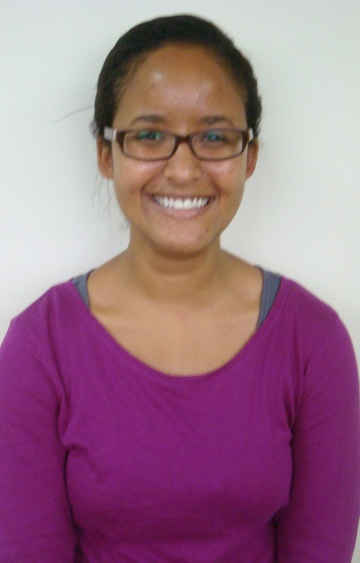 Jacqueline Benson is a PhD student in the Department of Plant Breeding and Genetics at Cornell University in Ithaca, NY where her primary advisor is Dr. Rebecca Nelson.  Her research involves the investigation of genetic resistance of maize to closely related pathogens, Cercospora zeae-maydis and Cercospora zeina.  Both are causal agents of maize gray leaf spot.  C. zeae-maydis is the primary causal agent in the United States while C. zeina is responsible for the disease in maize growing regions of Africa.
The use of a high resolution genetic mapping population under natural infection conditions has enabled her to identify quantitative trait loci (QTL) that confer resistance to C. zeae-maydis.  However, this does not necessarily translate to resistance to C. zeina.  While at the BecA-ILRI hub, she wishes to identify QTL that confer resistance to C. zeina using a set of recombinant inbred lines developed by Kenya Agricultural Research Institute (KARI) breeder, Dr. James Gethi.  Samples of this germplasm would be otherwise unavailable to her, so it was necessary to visit and attain DNA for genotyping and mapping.  Co-segregation of QTL may suggest that loci identified during the fine-mapping process under C. zeae-maydis infection can be used in marker assisted breeding programs in Kenya and around the world.  
At the BecA- ILRI Hub, she will be working under the supervision of Dr. Jagger Harvey.  The time spent at the Hub will enable her to enhance her genotyping skills as well as provide her with the opportunity to network with other scientists and students in the international agricultural research community.