Details

Written on Thursday, 25 October 2012 04:54
Dr. Appolinaire Djikeng to serve on the Scientific Advisory Board of the International Institute for Biotechnology in Nigeria
The BecA-ILRI Hub Technology Manager, Dr. Appolinaire Djikeng, has been invited to serve on the Scientific Advisory Board of the International Institute for Biotechnology in Nigeria.
This follows the signing of an agreement on 15th October 2012 between the United Nations Educational, Scientific and Cultural Organization (UNESCO) and the Federal Government of Nigeria establish the institute with the status of a Category 2 institute under the auspices of UNESCO, at the University of Nigeria, Nsukka.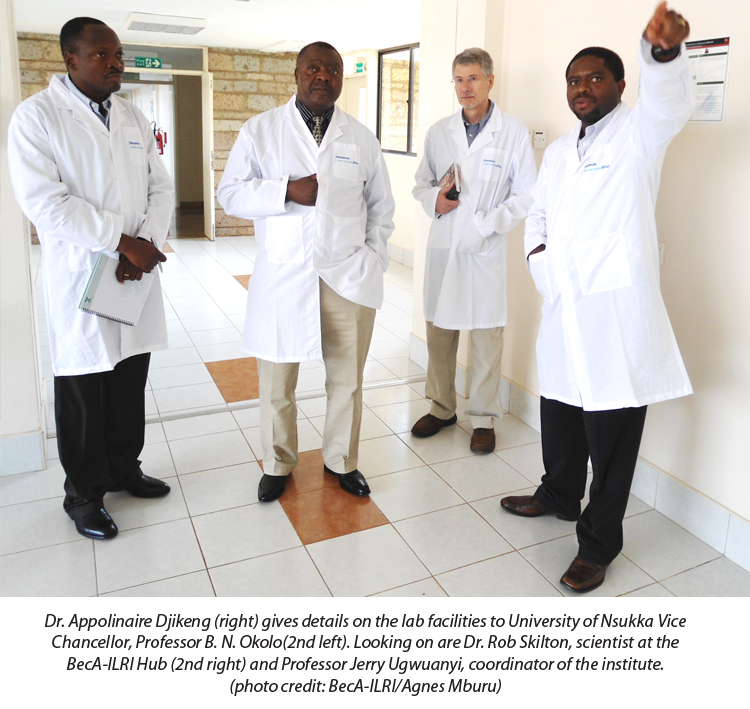 The International Institute for Biotechnology in Nigeria will focus on research in the areas of food security and tropical disease. The institute will also emphasize on promoting research on indigenous plant crops and food animals and on tropical diseases of high priority to the African region.

Earlier this year, University of Nsukka Vice Chancellor Professor B. N. Okolo and institute coordinator Professor Jerry Ugwuanyi, had visited the Hub to hold technical consultations with BecA Hub team members and tour the laboratory facilities.