Details

Written on Wednesday, 07 November 2012 22:47
Swedish National radio highlights research at the BecA-ILRI Hub
The BecA-ILRI Hub recently hosted Pelle Zettersten, a radio journalist from the Science department of Swedish National Radio. Pelle was on a tour of eastern Africa to report recent scientific developments in the areas of agriculture, environment and energy, and the future plans by different countries as concerns science and technology.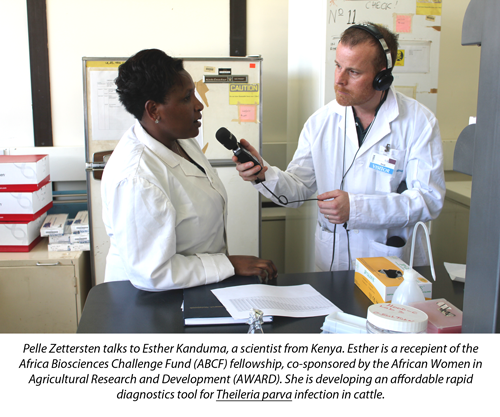 During his stop at the Hub on 26 September 2012, Pelle interacted with various Hub team members, learning more about the research and capacity building activities they were involved in. After a whole day at the Hub, mingling with staff and research fellows from different eastern and central African countries, Pelle could not hide his admiration for the team of staff and scientists he met. "You people are very passionate about what you do", he said "it is more than just a job for you!"

Listen to the expanded news feature on the Swedish Radio news prime time (in Swedish) http://sverigesradio.se/sida/

The translated script for the program can be downloaded here.