Details

Written on Sunday, 02 December 2012 06:52
Dear colleagues, friends and partners,
As some of you already know, I am leaving the BecA Hub and ILRI at the end of November, 2012 after five and half years as the BecA Hub Director. This is also a departure from the CGIAR after over 20 years of service, 15 of these at CIAT in Colombia. I will be joining the Alliance for a Green Revolution in Africa (AGRA) as their Vice President – Programs on 01 December, 2012 (http://www.agra-alliance.org/).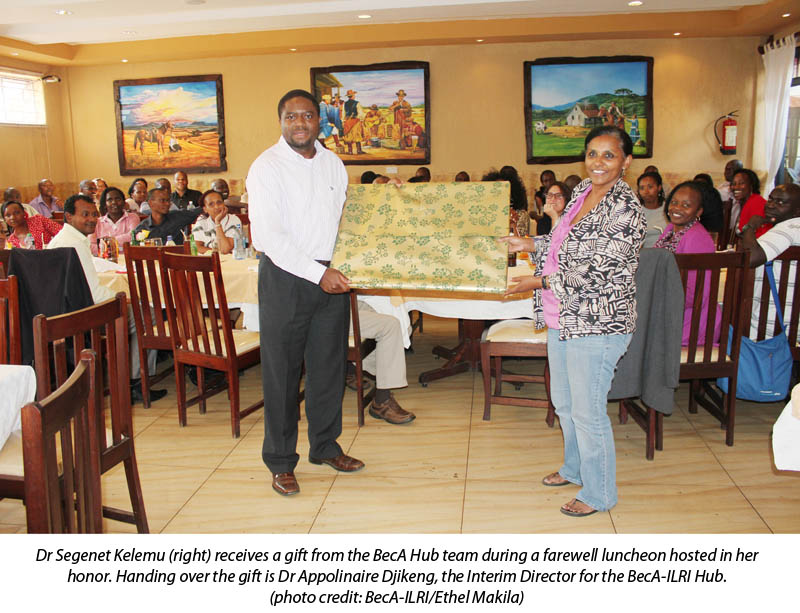 I joined ILRI as the BecA Hub Director in August, 2007. It has been quite a ride to say the least. When I arrived, the Biosciences eastern and central Africa (BecA) Hub was a great concept just starting to move towards implementation. This has been one of the most challenging, rewarding and enjoyable jobs I have ever held. The BecA Hub team is the very best team I have ever worked with: passionate, committed, driven and top calibre. It is a team that is bound by a strong common belief that Science and Technology will help bring Africa out of the shadow of poverty. I am eternally grateful to this fantastic team for making me look better than I am, and for putting up with my constant marathon of wanting things done "yesterday". Together with our high calibre partners and committed investors, we have made significant progress relevant to Africa, which is being moved towards impact across the region.
Supporting BecA's activities, we have gathered a critical mass of scientists from Africa and other global partners around strategic core competencies. Together, we are supporting our colleagues in an expanding number of African research institutes and universities to address key agricultural constraints through biosciences.  It is satisfying to look back on the journey, and see that today we have truly created a world class research and capacity building facility, including cutting edge equipment and supported by a foundation of dedicated staff and researchers from across the region and around the world.  The BecA Hub has evolved as an environment that fuels optimism and enthusiasm, inspiring researchers to dream and act on the scale necessary to help usher in the coming African agricultural revolution.
We have mobilized resources that fully support our expanding research, capacity building and other activities.  As I depart, I want to share with you all more good news on our resource mobilization front.  As you all may know, we have been very successful in raising funds through large grants from multiple donors. The following are our most recent successes:
A proposal that we recently submitted to the Swedish International Development Cooperation Agency has been approved for a total f 40 million SEK (USD6 million at the current exchange rate) for 3 years.
The next phase of the BecA-CSIRO Partnership project, funded by AusAID, has been given a green light for a total amount of AUD 22.5 million (about USD23.3 million at the current exchange rate).
We will be receiving about USD 0.9 million on portions of two projects funded by BBSRC.

The BecA team is very grateful to all our investors for the trust they have given us. 
I want to take this opportunity to thank our investors, partners, the BecA staff and members of ILRI for making BecA one of the success stories in Africa. A tremendous amount of hard work has gone into this and BecA is something we can all be proud of.  It will be rewarding to watch the impacts from both BecA and AGRA over the coming years.  I appeal to you for continued support for BecA and further support to AGRA, so that we can collectively contribute to even larger impacts in transforming African agriculture.  I feel fortunate to have been part of BecA's success, and I believe that BecA will inspire change across Africa by demonstrating and delivering on what is possible.  Thank you for giving me the opportunity, the support and the honor to be part of the unfolding BecA story.
Please contact Dr. Appolinaire Djikeng, Interim Director for the BecA Hub, for any BecA matters.
Segenet