Details

Written on Wednesday, 12 June 2013 05:08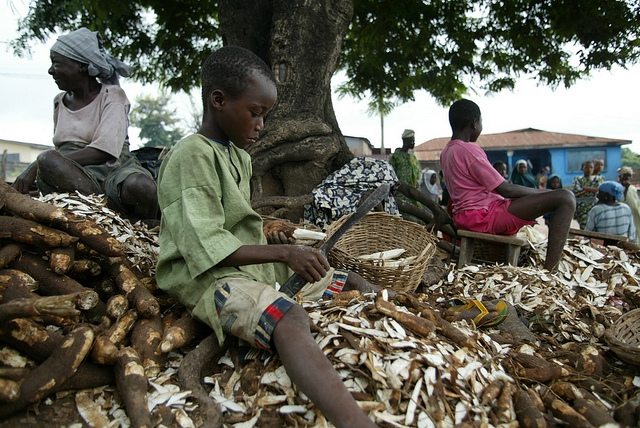 Considered for years the "poor man's crop", cassava, a staple food for more than 700 million people in over 100 countries, is not only the world's fourth-most important source of calories, but it is also the second-most important source of starch for industry.
According to Dr Claude Fauquet, plant virologist from the  International Center for Tropical Agriculture (CIAT) and Director of the Global Cassava Partnership for the 21 Century (GCP21) , the starch from cassava, is used in hundreds of products including flour, syrup, paper, glue, food additives and animal feed. Cassava starch is the most widely traded starch in the world and is vital cash crop for millions of smallholders in Asia and Latin America.
"Cassava as an important climate change resilient crop with a potential for increased yield of up to 200%, in Africa alone, over the next 20 years" said Dr Fauquet during his presentation at the BecA-ILRI Hub on Monday 10th June, 2013.
"The challenge in making this potential a reality is in the investment of advanced research and technology for better production systems, improved processing and better market management".
As a consortium bringing together different players in cassava production, processing and trade, the GCP21 is steering various stakeholders in cassava toward a more concerted approach to cassava improvement globally. By connecting over 3000 scientists, 105 national research institutions, 45 international research institutions, funders and the private sector GCP21 hopes to unlock cassava's potential for food, animal feed and industry.
________________________________________________________________________________
About the Global Cassava Partnership for the 21st Century (GCP21)
Founded in 2003, the Global Cassava Partnership for the 21st Century (GCP21) is a not-for-profit international alliance of 45 organizations and coordinated by Claude Fauquet and Joe Tohme of the International Center for Tropical Agriculture (CIAT). It aims to fill gaps in cassava research and development in order to unlock the potential of cassava for improving food security and also increasing incomes of poor farmers through work to develop industrial products from cassava. GCP21 is providing updated information regarding the crop, the scientists working on cassava and cassava R&D projects in the world.