Details

Written on Monday, 08 December 2014 16:08
The BecA-ILRI Hub celebrated Dr Joshua O Amimo, a BecA-ILRI Hub alumnus who received his Ph.D. in Animal Genetics and Breeding from the University of Nairobi, Kenya on 5th December 2014.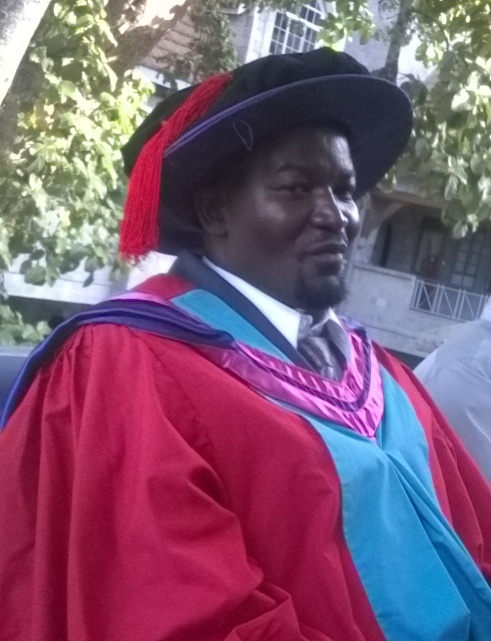 Amimo who was among 105 PhD graduates conferred degrees by the university's Chancellor Dr. Vijoo Rattansi, has been carrying out research on swine enteric viruses affecting pigs in smallholder farms along Kenya-Uganda border and successfully defended his thesis titled "Molecular detection, genetic characterization and zoonotic potential of porcine rotaviruses".
Amimo's 18-month scholarship under the ABCF fellowship program gave him access to mentorship and availed molecular biology tools that facilitated the advance in detection of rotaviruses in non-clinical pigs which would help in the design of control strategies of diarrhea in pigs in smallholder farms. He also managed to detect two other swine viruses (Astroviruses and Kobuviruses) for the first time in African pig population during his placement at the BecA-ILRI Hub. The presence of these gastroenteritis-producing viruses in clinically healthy pigs represents a source of infection of pigs, and possibly to humans.
During his placement, Amimo played a mentorship role to other ABCF fellows. Of his experience at the BecA-ILRI Hub Amimo says "Success is not counted by how high you have climbed but by how many you brought with you."

Amimo's PhD was sponsored by the Global One health program of the Ohio State University. His work feeds into a bigger Australian funded project on "Understanding African Swine Fever epidemiology as a basis for control", which will help in the development of accurate diagnostic tools and implementation of appropriate control strategies for pig diarrhea to improve pig health and production. Improved pig health will lead to improved production and ultimately improved livelihood.