Details

Written on Friday, 20 March 2015 11:02
The decoding of the tsetse fly's genome to reveal the genes responsible for its peculiar reproductive and feeding habits opened up new frontiers in dealing with the devastating trypanosome parasite it transmits. The tsetse fly is the sole vector for the parasite which causes sleeping sickness in people and livestock putting an estimated 70 million people in sub-Saharan Africa at risk every year and rendering livestock keeping almost impossible in some parts of the continent.
Unlike other insects, tsetse fly females get pregnant with a single young which is nourished and develops inside the body of the parent with "milk" secreted from special glands. Only eight to ten are produced during the lifecycle of a female tsetse fly, compared to the thousands of eggs laid by a  female mosquito over her life span. These insects also rely on proline, an amino acid that is a constituent of most proteins, as their source of energy unlike other insects which utilize different forms of carbohydrates.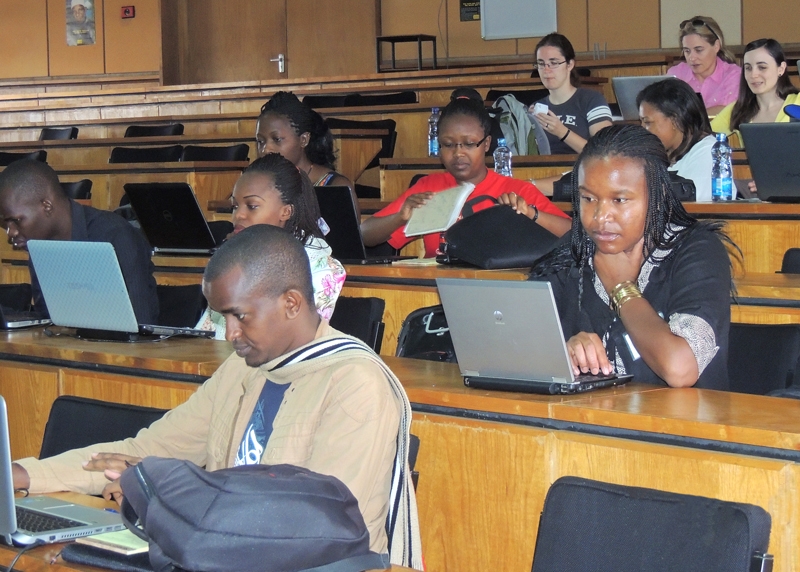 From 15-21 March 2015, a team of scientists from across the world are gathered at the Biotechnology Research Institute-Kenya Agricultural and Livestock Research Organisation (BRI-KALRO) to compare the genomes of five tsetse species and determine the genetic factors responsible for their peculiar nutrition and reproduction as well as their vectorial capacity. The workshop to give in-depth meaning to the genome sequences of tsetse flies was convened by the Yale School of Public Health (YSPH) and BRI-KALRO, in collaboration with the Biosciences eastern and central Africa -International Livestock Research Institute Hub(BecA-ILRI) Hub; African Insect Science for Food and health (icipe); the Center for Biotechnology and Bioinformatics –University of Nairobi (CEBIB-UoN); and South African National Bioinformatics Institute (SANBI).
The scientists including Lorna Jemosop from Kenya, Tania Bishola from the Democratic Republic of Congo and Abraham Mayoke from Congo Brazzaville whose participation was facilitated by the BecA-ILRI Hub, are annotating the genes associated with chemosensation and vision, immunity, reproductive physiology, horizontal transfer events, digestion, salivary biology, regulatory systems and more.
The hands-on annotation efforts are being accompanied by topical lectures on the different physiologies given by experts in these fields including BecA-ILRI Hub bioinformatics post-doctoral scientist, Mark Wamalwa.