Details

Written on Thursday, 21 May 2015 12:39
Written by Ethel Makila, BecA-ILRI Hub communications officer
The Rwanda Ministry of Agriculture and Animal Resources and the International Livestock Research Institute (ILRI) earlier this month signed a memorandum of understanding to facilitate research that will help modernize small-scale agriculture in the country.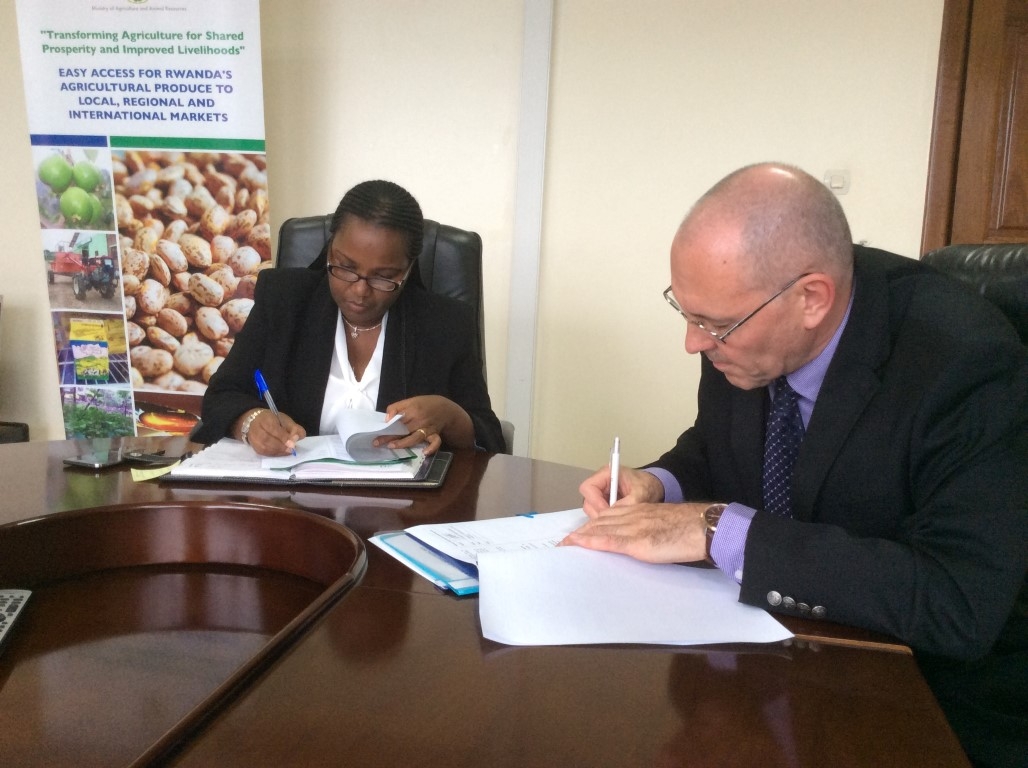 The agreement was signed in Kigali, Rwanda, on 6 May 2015 by the Rwandan Minister for Agriculture and Animal Resources, Hon Gerardine Mukeshimana, and Iain Wright,ILRI's deputy director general for integrated sciences. Until mid-2014, the minister, who is a plant breeder by training, had beenworking at the Biosciences eastern and central Africa (BecA)-ILRI Hub, where she employed molecular virology, genomics and bioinformatics in strategies to control the spread of viral diseases of the common bean, a staple food of her country.
Present at the signing ceremony were the director of the BecA-ILRI Hub, Appolinaire Djikeng, and Romano Kiome, an agricultural and rural development specialist who formerly served as director of the Kenya Agricultural Research Institute (KARI, now the Kenya Agricultural and Livestock Research Organisation) and permanent secretary in Kenya's Ministry of Agriculture.
 'I'm delighted to have signed, on behalf of ILRI, the MoU with the Ministry of Agriculture and Animal Resources,' said Iain Wright. 'It is clear that the livestock sector in Rwanda has huge potential to contribute even more than it currently does to economic development and food and nutrition security.' He added that the Rwanda Government's 'One Cow per Poor Family' program, which has already reached nearly a quarter million poor households since its inception in 2006, is an example of the difference livestock development can make to people's lives.
The MoU marks a new level of collaboration between ILRI and the Rwanda Government to bolster the livestock sector's ability to feed a rapidly growing population. From 2008 to 2013, ILRI was a key partner in the first phase of a project funded by the Bill & Melinda Gates Foundation—the East Africa Dairy Development (EADD) Project—that operated in Rwanda and two other East African countries. Implemented by a consortium of partners led by Heifer International, this project has helped enhance the region's dairy value chain and increase the incomes of its many small-scale dairy farmers.
Funders of the BecA-ILRI Hub have to date invested nearly half a million dollars in support of Rwandan scientists tackling various food challenges in their country. A joint initiative ofthe African Union's New Partnership for Africa's Development (AU-NEPAD) and ILRI, the Hub has helped more than 40 Rwandan scientists apply the latest biotechnologiesin research on issues of national importance.
Starting in 2013, scientists of the Rwanda Agricultural Board (RAB) have also been engaged with the Hub in collaborative research on Brachiaria grasses, producing improved, farmer preferred, varieties of this nutritious fodder that is now in use by more than 100 livestock farmers. These grasses, which are native to Africa, are among the most widely cultivated forages in South and Central America and Australia, where they have significantly increased cattle milk and meat yields in cattle. Some 56 Rwandese farms are now testing responses in productivity levels (changes in milk and/or liveweight gains) to Brachiaria feeding.
Among other Rwanda scientists the Hub has supported is Kizito Nishimwe, a lecturer at the University of Rwanda who conducted a study of the levels of aflatoxin contamination of Rwanda's maize. To date, a dearth of data on aflatoxin levels in this nationally important crop, which feeds animals as well as people, has hampered development of policies to control contamination and has limited the growth of Rwanda's commercial maize markets and trade. Nishimwe's research lays the foundation for development of interventions that will better control aflatoxin poisoning.
This new partnership agreement between Rwanda's Ministry of Agriculture and ILRI lays the foundation for even closer and more productive collaborations in future. Working together, scientists from Rwanda, the BecA-ILRI Hub and the rest of ILRI will be well-positioned to advance and accelerate knowledge and technologies that improve Rwanda's agricultural productivity and incomes as well as its food and nutritional security.