Details

Written on Friday, 02 October 2015 21:18
2 October 2015—Increased investment in modern biosciences can significantly contribute to the transition of sub Saharan Africa from a source of raw materials to a producer of value added products and drive economic growth on the continent.
According to Dr Peter Ndemere executive secretary of Uganda National Council for Science and Technology (UNCST), science, technology and innovation in general and modern bioscience in particular are critical to the transformation of regional populations from subsistence to modern and prosperous communities. Ndemere was speaking at a symposium convened on 29 September 2015 at the UNCST headquarters in Kampala, Uganda, to discuss regional cooperation in biosciences for agricultural development.
The gathering of researchers, policy makers and representatives of international agricultural research institutions were exploring opportunities for collaboration in bioscience research and capacity building for improved agricultural productivity, income generation and food and nutritional security; and prospects for the Uganda national agricultural research system (NARS) actors to maximize opportunities available at the Biosciences eastern and central Africa–International Livestock Research Institute (BecA-ILRI) Hub in Nairobi, Kenya.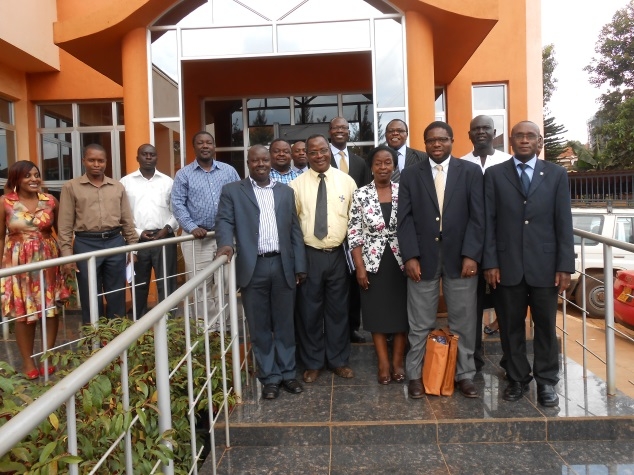 Dr Appolinaire Djikeng, the director of the BecA-ILRI Hub highlighted the support that has already been availed to Ugandan agricultural research institutions totaling over USD 725,000. The BecA-ILRI Hub's contributions include ongoing research and capacity building activities with Makerere University, Gulu University and the National Agricultural Research Organization.
'The BecA-ILRI Hub presents an opportunity for the African scientists to develop their capacities and should be seen as an extension of the capabilities available within the NARS' said Djikeng.
Dr Theresa Sengooba, chairperson of UNCST commended the BecA-ILRI Hub for supporting regional NARS in seeking practical solutions to agricultural development challenges in the country and the region. Dr Sengooba who is also a BecA-ILRI Hub advisory panel member underscored the need to strengthen public-private, public-public and private-private partnerships for sustainable collaboration. 
To demonstrate the contribution of the BecA-ILRI Hub to bioscience innovation in the region, Dr Charles Masembe, associate professor at Makerere University talked about his research on African swine fever while Dr Laban Turyagyenda, director of the Ngeta Zonal Agricultural Research and Development Institute highlighted his work on tolerant cassava varieties, both of which have been done in collaboration with the BecA-ILRI Hub. Dr Alex Bombom, a post-doctoral scientist at the BecA-ILRI Hub gave insights to his groundbreaking work in the development of a hybrid crop between maize and sorghum, with high potential for dual use as food and fuel. 
The symposium was attended by 30 participants comprising UNCST Board Members and senior managers, senior scientists and researchers from NARO and Makerere University and government officials from the Ministry of Education, Science, Technology and Sports. The ILRI country representative, Dr Ben Lukuyu was also present at the symposium which was moderated by Dr Julius Ecuru from UNCST.
_______________________________________________________________________________________________
Read the original article on the UNCST website.