Details

Written on Monday, 15 February 2016 06:29
Regional, continental and international leaders make the case for greater investment in biosciences research

Advances in bioscience technologies and innovations have the potential to transform agriculture in Africa. For over a decade, the Biosciences eastern and central Africa-International Livestock Research Institute (BecA-ILRI) Hub and its partners have played a vital role in empowering African science leaders to use biosciences in addressing major agricultural challenges.
On 3 February 2016, the BecA-ILRI Hub held its fifteenth anniversary celebration at ILRI's headquarters in Nairobi. In 15 years of existence, the BecA-ILRI Hub has provided training in emerging biotechnologies to over 556 African researchers from over 27 countries, availing them access to state of the art laboratories which reflect global technological trends, including: genomics; bioinformatics; mycotoxin and nutritional analysis; tissue culture and plant transformation; and molecular breeding platforms.
The BecA-ILRI Hub has also hosted 226 projects that are responding to national priorities in 21 African countries, and together with national and international partners, made groundbreaking contributions to agriculture including discovery of new viruses at the pig and human interface and in crop; contribution to the release of new sorghum varieties; contribution to a better understanding of the maize lethal necrosis disease; establishment of systems for the diagnosis and management of aflatoxin in maize; and the establishment of a regional forage program to increase livestock productivity.
The February event convened over 200 people from across the globe to celebrate these accomplishments and explore ways to scale-up the Hub's impacts to achieve food and nutritional security and economic well-being in Africa.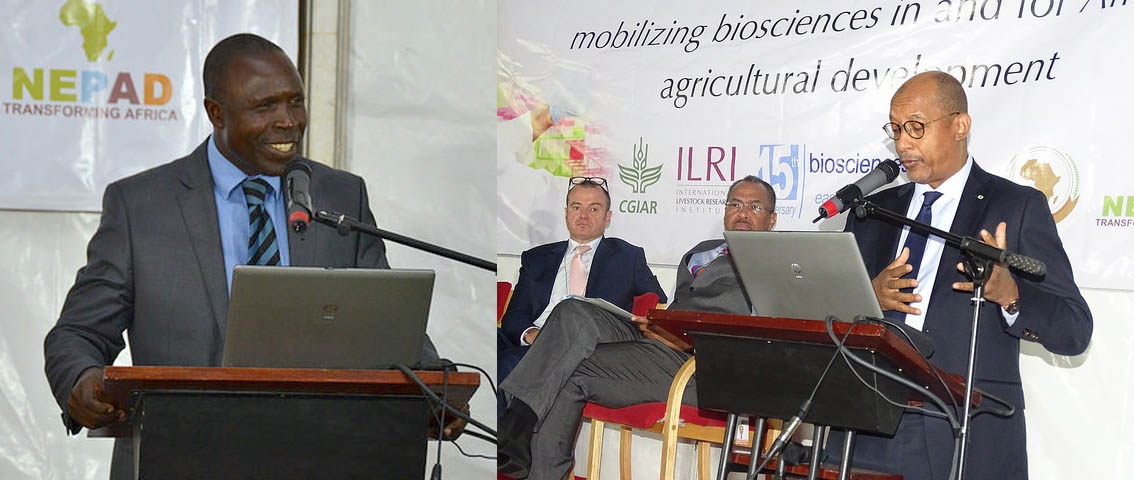 During the opening of the event, Kenyan cabinet secretary for the ministry of agriculture, livestock and fisheries, Willy Bett emphasized the obligation of scientists to contribute to the creation of sustainable agro-food sectors in Africa, and the need for a paradigm shift to fast track the conversion of research-based discoveries to solutions on the ground. Minister Bett said 'feeding a growing population with less land resources is not mission impossible', adding that his ministry was committed to ensuring the impact of bioscience research is felt in agricultural development in Kenya. 
In his keynote address, African Union's New Partnership for Africa's Development (NEPAD) Agency, Ibrahim Mayaki, described the BecA-ILRI Hub as a key player in agricultural research for development in Africa and lauded the initiative for contributing to the Science Agenda for Agriculture in Africa (S3A) and Africa's policy framework for agricultural transformation, the Comprehensive Africa Agriculture Development Programme (CAADP). The need to focus on opportunities rather than challenges was emphasized by ILRI director general Jimmy Smith who welcomed partnerships that will support the Hub's contribution towards a well-nourished Africa.
Representing the BecA-ILRI Hub donor community, the Australian high commissioner to Kenya HE John Feakes and Canadian high commissioner to Kenya HE David Angell noted the BecA-ILRI Hub's contribution to bridging a technological gap for African researchers. While commending individuals and institutions that were instrumental to the establishing the BecA-ILRI Hub, Gabrielle Persley, research director for the Crawford Fund Australia, challenged potential investors and partners to support the Hub and be a part of the seminal discovery for which it will be famous in the future.
In his vote of thanks, BecA-ILRI Hub director Appolinaire Djikeng recognized the invaluable contributions of African and international research and donor partners, governments and institutions to what he termed 'the great African success story'.
___________________________________________________________________________________________
Read the announcement about this event.
Learn more about the BecA-ILRI Hub here
Read related stories:
Kenya's Agriculture Minister and AU-NEPAD CEO Underscores Use of ST&I in African Agriculture
Communication vital for Africa to achieve the SDGs
Agriculture CS urged to base policy on new tech
View a collection of and social media coverage of the event by scrolling down through one page on Storify: CelebrateBecA—15 years of African agricultural biosciences excellence
View the ILRI livestream footage of the event
Watch a new 4-min video about the BecA-ILRI Hub
Follow the hashtag #CelebrateBecA for tweets about the event