Details

Written on Wednesday, 24 February 2016 18:48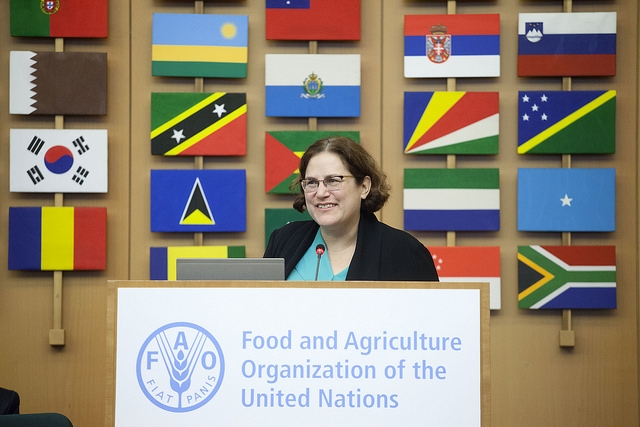 The increased use of biosciences by African national agricultural research systems (NARS) was highlighted by the BecA-ILRI Hub at an international symposium on the 'Role of agricultural biotechnologies in sustainable food systems and nutrition' held from 15-17 February 2016 in Rome, Italy.
In a presentation titled 'Biosciences capacity building in Africa: lessons learned from the BecA-ILRI Hub', development partnerships specialist Helen Altshul highlighted lessons learned from over a decade of supporting national programs in building their capacity to deliver on their national research mandate.
Altshul emphasised the BecA-ILRI Hub's demand-driven approach to research and capacity building underpinned by the Africa Biosciences Challenge Fund (ABCF) program. Through the ABCF, the BecA-ILRI Hub continues to contribute to strengthened research capabilities of individuals and institutions within NARS in Africa.
The presentation demonstrated how the BecA-ILRI Hub's focus on enabling research innovations has produced important discoveries led by national researchers including:
Isolation of the new virus in pigs by scientists from Uganda and Kenya led by Charles Masembe from Makerere University in Uganda;
 Production of new cross between maize and sorghum for crop improvement by Alexander Bombom from the Ugandan National Agricultural Research Organization (NARO);
 Utilizing genetic diversity of local African chicken to improve productivity by Christian Keambou from the University of Buea in Cameroon; and
Contribution to the release of new sorghum varieties in Sudan by Rasha Mohamed from the Agricultural Research Cooperation
Participants of the symposium included representatives of governments, intergovernmental organizations and of non-state actors, including civil society, private sector, research institutions and producer organizations.
For more information on the symposium, visit the FAO Symposium website.
Learn more about the Africa Biosciences Challenge Fund program here.