Details

Written on Tuesday, 16 February 2016 19:35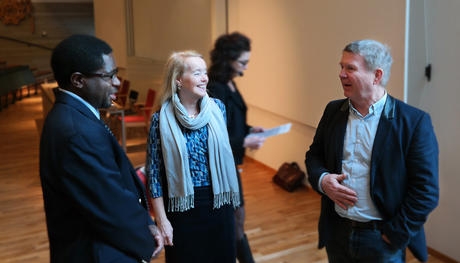 A new program 'Agriculture for Food Security (AgriFoSe): translating science into policy and development' developed by researchers in Sweden has the potential to contribute to Africa's achievement of the SDGs.

Speaking on the African perspective of research on food security at the official launch in Uppsala, Sweden, BecA-ILRI Hub director Appolinaire Djikeng noted that the planned expansion of the program into a global network could potentially impact food security policies and the sustainable development goals at the local level in Africa.

The four-year program was developed by researchers from the Swedish University of Agricultural Sciences (SLU), Lund University, Gothenburg University and Stockholm Environment Institute (SEI) with a 60 million SEK grant from Swedish International Development Cooperation Agency (Sida).
__________________________________________________________________________________

Watch Appolinaire Djikeng's presentation at AgriFoSe here
Read more about AgriFoSe.