Details

Written on Friday, 25 September 2009 01:11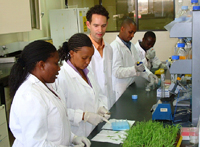 Jagger Harvey is an American scientist currently working in Kenya on crop research at the Biosciences eastern and central Africa (BecA) Hub, an initiative hosted and managed by the International Livestock Research Institute in Nairobi.
He was born in 1975 in Port-au-Prince where his mother's family is from. She was made a U.S. citizen when she was a teenager living in the states. Her son was registered as a U.S. citizen born abroad. His father's family is from Seattle, and he shuttled to and from Haiti to Seattle, Washington, yearly as a child. His parents eventually settled in Bethesda, Maryland, where he stayed through high school.