Details

Written on Tuesday, 02 February 2010 00:21
Eastern Africa journalists visit BecA Hub

The Biosciences eastern and central Africa (BecA) Hub in Nairobi hosted more than 20 eastern Africa journalists in the country for a training course on reporting on biotechnology.  The three-day course was jointly organized by the African Agricultural Technology Foundation (AATF) and the International Wheat and Maize Improvement Center (CIMMYT) and held at the headquarters of the International Livestock Research Institute (ILRI).
The journalists toured the various laboratory facilities at the BecA Hub interacting with scientists and students from different African research institutions. They were shown how some of the equipment work, notably the newly acquired 454 genome sequencer, which will enable researchers to decode the genetic make-up of crops and other organisms of agricultural importance in a matter of seconds.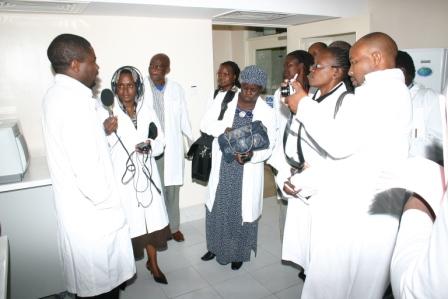 "While doing my PhD research about ten years back working on African trypanosomes, it took me about three years to generate sequencing data that can today be generated in a matter of minutes using the 454 sequencing" the hub's Technology Manager, Dr Appolinaire Djikeng explained to journalists.

The journalists also got firsthand explanation on how cutting edge research techniques like marker-assisted breeding are helping bring solutions to farmers in half, or less, the time it takes conventional breeding. The example of striga-resistant sorghum was demonstrated by scientists from the International Crops Research Institute for the Semi-Arid Tropics (ICRISAT). The most engaging interaction between the scientists and journalists was in the journalists trying to understand why the search for a vaccine for the East Coast Fever still remains elusive.

The visiting journalists represented key mass media in their respective countries. From Tanzania were representatives from the national Tanzania Broadcasting Corporation, Citizen and Daima Newspapers, while Uganda had representatives from the weekly EastAfrican paper and the Monitor and New Vision dailies. Kenya's journalists were drawn from the national Kenya Broadcasting Corporation, both radio and television, Citizen TV, the Daily Nation and Standard newspapers, as well as Transworld Radio and Capital FM radio. A reporter from BBC joined the group and interviewed BecA scientists for the Network Africa Programme.

Some of the coverage emanating from the journalists' visit includes the following:
World-class bio-science lab opens - The Citizen, Tanzania
http://www.thecitizen.co.tz/newe.php?id=16862

This story was picked by other online media including allAfrica.com and newstin
http://allafrica.com/stories/201001150562.html

http://redtram.com/go/237046676/

http://www.newstin.com/tag/us/168789431
 
Modern science lab opens in Kenya – Capital FM, Kenya
http://www.capitalfm.co.ke/news/Kenyanews/Modern-science-lab-opens-in-Kenya-7113.html

New bioscience research facility to boost innovation – Standard, Kenya
http://www.standardmedia.co.ke/InsidePage.php?id=2000001877&cid=4&

http://dailynews.co.tz/home/?n=6722