Details

Written on Tuesday, 02 February 2010 00:32
Biosciences eastern and central Africa (BecA) Hub in Nairobi was recently privileged to receive a visit from the Board of Trustees of the Syngenta Foundation for Sustainable Agriculture (SFSA): Mr. Martin Taylor (chair), Dr. Marco Ferroni  (Executive Director SFSA), Pierre Landolt, Eugene Terry, Christian Bonte-Friedheim and Andrew Bennett. They were accompanied by Dirk Seidel, (Secretary to the Board), Cristianne Close, Rose Goslinga, Mike Robinson, George Osure (SFSA staff members) and Oumar Niangado (Delegate SFSA Mali).
The SFSA is a major, long-time supporter of the BecA Hub.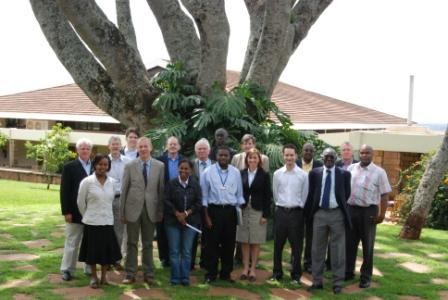 The focus of the visit was on the BecA Hub's new research facilities on the International Livestock Research Institute (ILRI) campus. The visitors were welcomed by Dr Segenet Kelemu, Director of the BecA Hub, and Mr. Bruce Scott, ILRI Director of Partnership and Communication. Dr. Appolinaire Djikeng, BecA Hub Technology Manager, briefed the visitors on the new research facilities and the exciting research opportunities they offer. This was followed by a guided tour of the laboratories, including the new high-throughput 454 sequencing lab, the plant transformation lab and the biosafety level III lab.

Scientists who interacted with the Board included BecA Hub scientists Drs Jagger Harvey and Rob Skilton, Dr. Santie de Villiers (ICRISAT), Dr. Marc Ghislain (CIP), ILRI scientists Dr. Vish Nene and Dr. Joerg Jores, and visiting scientist Dr David Odongo (University of Nairobi). The SFSA Board was very excited to see that the new and refurbished laboratories at the Hub are now operational for use by scientists to address agricultural constraints in Africa.