Details

Written on Wednesday, 10 March 2010 01:17
Biosciences eastern and central Africa (BecA) -ILRI Hub in Nairobi recently had a visit of their facilities from Tom Arnold and Ganesan Balachander, members of the CGIAR consortium Board who were at the International Livestock Research Institute for a weeks meeting.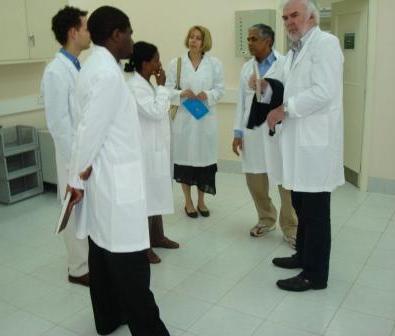 The focus of their tour was to see the new BecA-ILRI Hub research facilities.  They were welcomed by Dr Segenet Kelemu, Director of the BecA-ILRI Hub, Dr. Appolinaire Djikeng, BecA-ILRI Hub Technology Manager, Rob Skilton and Jagger Harvey, both research scientists at the hub. Before the tour began, they were briefed on the new research facilities and the exciting research opportunities offered at the Hub. This was then followed by a guided tour of the laboratories, including the new high-throughput 454 sequencing lab, the plant transformation lab and the Biosafety Level 3 lab.
In summary, the visitors felt that BecA-ILRI Hub was an excellent and inspiring biosciences facility for Africa.