Details

Written on Tuesday, 11 May 2010 02:13
Dereje Beyene is a lecturer in the College of Education, Department of Biology Education University of Addis Ababa, Ethiopia where his core responsibility is lecturing undergraduate students on 'Introduction to genetics, cell biology and evolution'. Dereje holds a master's degree in genetics from the same university and is currently pursuing his PhD at Makerere University, Uganda in collaboration with Swedish University of Agricultural Science (SLU) through a BIOEARN fellowship.
As a PhD student, he is studying molecular and cell biology with special emphasis on one of the starch metabolizing genes of cassava  (Manhot esculenta) encoding Isoamylase1Dereje has also taken courses in Bioinformatics, genome analysis and cell and molecular biology at the department of Plant Biology and Forest Genetics, SLU.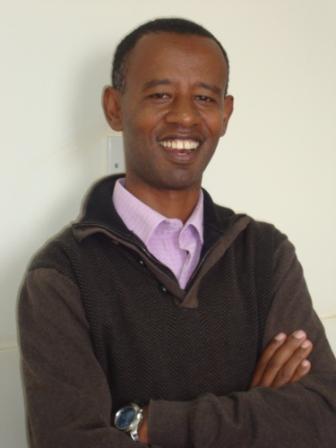 Dereje's PhD work focuses on understanding the molecular bases of starch metabolism in cassava. So far, he has identified and characterized Isoamylase1 enzyme encoding gene that is involved in starch biosynthesis. His work at the BecA-ILRI Hub will focus on the analysis of Single Nucleotide Polymorphisms (SNPs) of cassava geographic isolates. His research is designed to improve our understanding of the role of Isoamylase1 gene in cassava starch biosynthesis and of the evolutionary history of the gene during domestication. This will help improve cassava breeding. At the BecA-ILRI Hub, Dereje is under the supervision of Dr. Jagger Harvey and Dr. Etienne de Villiers (Bioinformatics Unit).